Pipeline Services
Details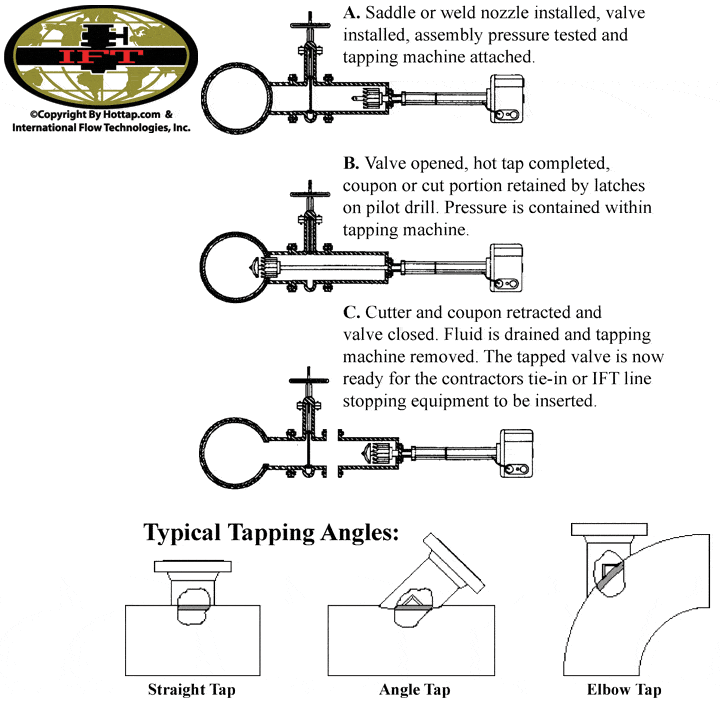 Hot Tapping Procedures:
A. Saddle or weld nozzle installed, valve installed, assembly pressure tested and tapping machine attached. Here are some example of some
pipeline hot tapping fittings, saddles and sleeves
. B. Valve opened, hot tap completed, coupon or cut portion retained by latches on pilot drill. Pressure is contained within the tapping machine. Here is a great example of a
36" Hottap coupon retained
before we completed the 54" Linestop. C. Cutter and coupon retracted and valve closed. Fluid is drained and tapping machine is removed. The tapped valve is now ready for the contractor's tie-in or IFT's
Linestop service
equipment to be inserted. Typical Tapping Angles: Straight Tap, Angle Tap and Elbow Tap as seen in the image diagram on this page.
Adding new connections or tie-ins
Adding branch connections to existing pipelines without interrupting service is our specialty. Capabilities: 1/2" - 96" on water, gas, steam, air, and chemicals. Available for any type of pipe, with complete turnkey service available. IFT specializes in large diameter connections and examples can be seen on our
Featured Work
Page. Hot tapping, wettaps, hottaps, or pressure tapping is the method of making a connection, or tying into, existing pipe or vessels without interrupting the system. Pipeline tapping is also the first procedure in line stopping, where the hole saw is used to make an opening in the pipe, so a line plugging head can be inserted. IFT's hot tapping services include tapping 1/2" to 96" on natural gas, water, sewage, steam, petroleum products, and chemicals. To get a quote for your Hot/Wet tapping needs, with or without a valve, call IFT 1-800-221-3332 or use our free quote form.
IFT as been a top hot tapping contractor for over 37+ years and would love to help you with any of your pipeline needs. We offer free quotes and free phone support. Call today 1-800-221-3332. IFT is a high standard hot tapping company that will make sure your job is complete right with coupon retention.
Hot Tapping Cut Sheets PDF's
Hot Tapping Slideshow Video
Hot Tapping Services Slideshow
Details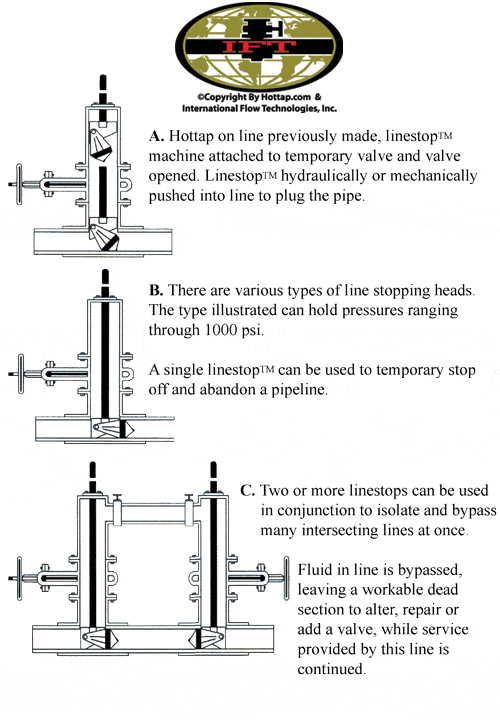 Linestop Procedures:
A. Hottap on the line is previously made, the linestop machine is attached to a temporary valve and the valve is opened. Linestop is hydraulically or mechanically pushed into line to plug the pipe. Click the following link for more information about our hot tapping, hottap, wettap, pressure tap services. B. There are various types of line stopping heads. The type illustrated in the picture on the left can hold pressures ranging from 1000 psi. A single linestop can be used to temporarily stop and abandon a pipeline. The other types of line stopping equipment can be found here: Linestop, stopple, pipe plugging machines. C. Two or more linestops can be used in conjunction to isolate and bypass many intersecting lines at once. Fluid in the line is bypassed, leaving a workable dead section, in which, alterations, repairs, or valve additions can be achieved, while service provided by the line is continued. Click the following link for more information about our pipeline by-passing services. D. When the required work is completed, and the linestop is to be removed, completion machines are installed onto the temporary valves. An IFT completion plug is installed into the outlet flange of the linestop fitting. This allows the linestop machines and temporary valves to be removed. A blind flange is usually installed to finished the linestop operation. More details can be found about our Completion plug assemblies.
Advanced Line Stopping Services
Pipeline line stops isolate a section of pipe, stopping its flow. IFT provides the most advanced linestop services available today! Sizes from 1/2" - 84" on any type of pipeline. Indoor line stops require various types of line stopping equipment and folding heads for tight inaccessible areas for example here is an indoor line stop featured in the featured pipeline work section of this website. IFT is the leader for indoor pipeline services. We can perform pipeline plug services on steam systems, air lines, chemical lines and chilled water systems anywhere, any time. Changes to your manufacturing plant and piping systems can be solved without an outage. Pressures to 500 psi and temperatures through 500 deg. F. Get a quote for your indoor, outdoor, underground, or above, high pressure or hazardous pipeline linestop needs. Call IFT 1-800-221-3332
Pipeline Stopping Cut Sheet PDF's

Dolor Sit Amet
Pipe Linestop Services Slideshow

Dolor Sit Amet
Details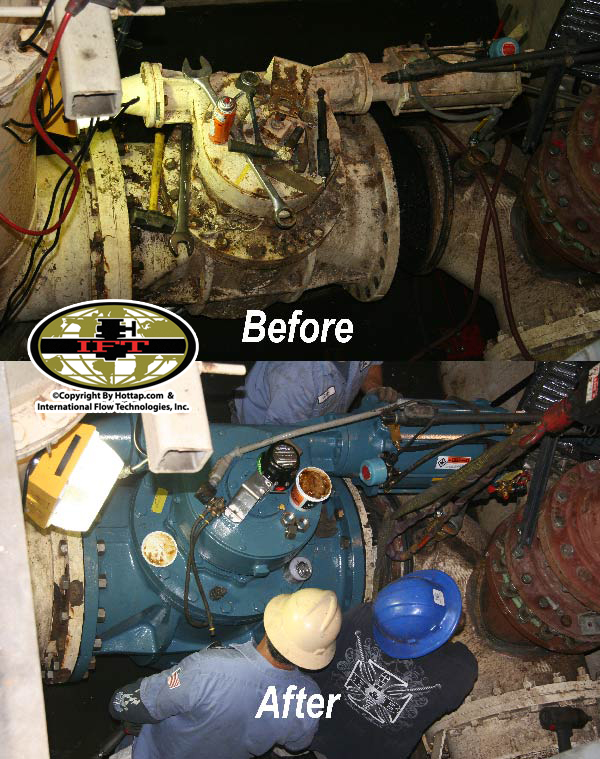 Pipeline Valve Installation Services:
International Flow received a call from Rancho Water Company, in Temecula, CA about their pipeline that had no pipe to perform a Linestop, except a 24" 90-degree elbow. It was a fabricated sectional elbow as well! The 24" Plug valve was seized in the closed position, with no way to isolate, and the only option was to bypass the operational sewage plant. Seeing the importance of this valve replacement, International Flow laid out the easiest way to isolate the 24" pressurized sewage elbow without building specialized machinery. Another concern of IFT was to check the inside of the pipe for the possibility of it being filled with solids, which would make it hard to install a linestop mechanism. The condition of the pipe was checked by sending a measuring probe through a test hot tap and the line seemed to be full of sewage, but only 20% solids were resting on the bottom of the pipe. So the operation was full steam ahead! Being that the 24" elbow was .375 thick carbon steel, fabricated from pipe sections, the Linestop fitting was installed by welding in a position not normal for hot tapping. Once the 16" hot tap was performed it allowed access for IFT's folding head to open up, to seal the 24" sewage main, bubble tight, allowing for the valve to be replaced in a clean manner. After the project was complete, the operation looked simple to most onlookers. Few understand all the preparations and testing that goes into projects like these prior to being "on stage". Much thanks to the International Flow Engineering Division for making these preparations for our field crews, who onsite, looked like we perform elbow Linestops every day.
24" Eccentric Plug Valve Installation
12" Insert Valve Installation
Advanced Eccentric Plug Valves (PEC) Installation Services
The features of the DeZURIK Eccentric Plug Valves' design include eccentric action and resilient plug facings, which assure lasting dead-tight shutoff. The clean interior design and straight-through flow, of the valve, allows high maximum flow capacity with minimum pressure drop. Heavy-duty stainless steel bearings, choice of resilient plug facings, welded-in, corrosion-resistant nickel seat and a variety of end styles are available. Eccentric Plug Valves are capable of handling clean and dirty liquids, gases, sludges, and slurries. Eccentric Plug Valves (PEC) Size Range: .5 - 72" (15 - 1800mm) Temperature Range: to 300°F (150°C) Pressure Rating: 125 - 450 psi (860 - 3100 kPa) CWP Shutoff pressure to 275 psi (1980 kPa) Shutoff Class: Resilient plug facing: drip tight to rating up to 275 psi (1890 kPa) Body Material: Cast iron, bronze, aluminum, carbon steel, stainless steel, Alloy 20, monel and ductile iron Get a quote for your indoor, outdoor, underground or above, high pressure, or hazardous Line Stopping needs. Call IFT 1-800-221-3332.
Valve Installation and Replacement Services Slideshow
valve installations and replacements slideshow
Details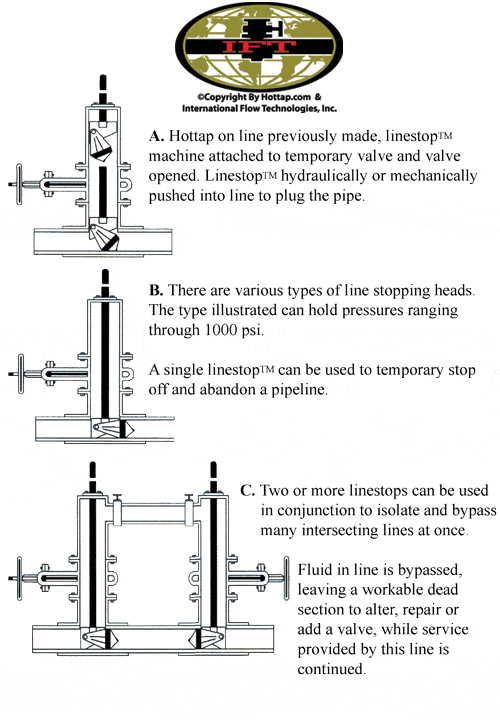 Pipeline By-Passing:
IFT can bypass a section of pipe, without an interruption of its flow. IFT provides the most advanced line stopping and bypassing service available today! Sizes from 1/2" - 48" on any type of pipeline. When the City of San Diego needed an isolation valve installed in a sewer force main, that could not be shut down, they contacted IFT. Installation of the valve and tee was provided while maintaining full protection of the environment. This 14" transite main was line stopped with a built-in 8" bypass to continue service. Once the valve was installed, the bypass and line stopping equipment were removed.
Advanced Pipe By-Pass Services
Indoor Line Bypassing - IFT uses various types of line stopping equipment for bypassing. IFT is the leader for indoor bypassing services. We can bypass your manufacturing plant's piping systems, allowing modifications to be solved without stopping the flow. Get a quote for your indoor, outdoor, underground or above, high pressure, or hazardous Line Stopping needs. Call IFT 1-800-221-3332.
72" Linestop with a 48" By-Pass
Linestop and By-Passing Services Slideshow
24" 90 degree elbow Linestop
Pipe By-Passing Slideshow
Details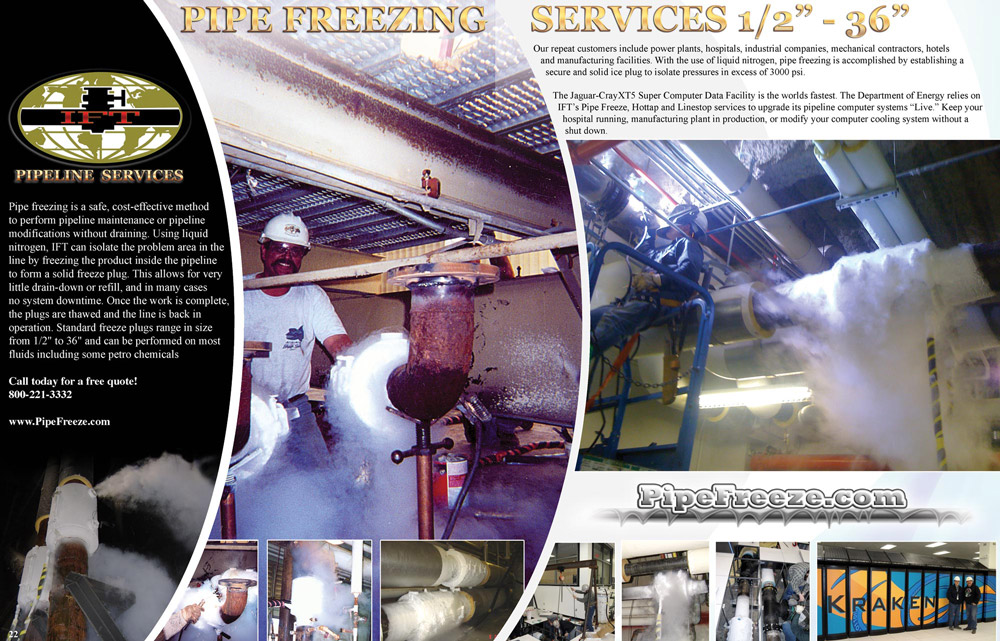 Pipeline Freeze Plug Services:
Pipe freeze plugs are a simple, cost-effective method to perform pipeline maintenance, or pipe modifications, without draining. Using liquid nitrogen, IFT can isolate the problem area in the line by freezing the product inside the pipeline to form one or more solid freeze plugs. This allows for very little drain-down or refill, and in many cases, no system downtime. Once the work is complete, the pipeline freezes are thawed and the pipeline is back in operation. Standard line freezes range in size from 1/2" to 36" OD and can be performed on most fluids including petrochemicals. Our repeat customers include power plants, hospitals, industrial companies, mechanical contractors, hotels and manufacturing facilities. With the use of liquid nitrogen, pipe freezing is accomplished by establishing a secure and solid ice freeze plug to isolate pressures in excess of 3000 psi. Here is an example of pipe freeze plug services in our featured work area of this website.
Slideshow Video of Past Freeze Plugs
14" Stainless Steel Freeze Plug
Pipe Freeze Plugs for Hydrostatic Testing
Industrial Pipe Freeze Plug Services Slideshow

Dolor Sit Amet
pipe freeze plugs slideshow
Kraken Oak Ridge National Laboratory Supercomputer Pipe Freeze Plug Services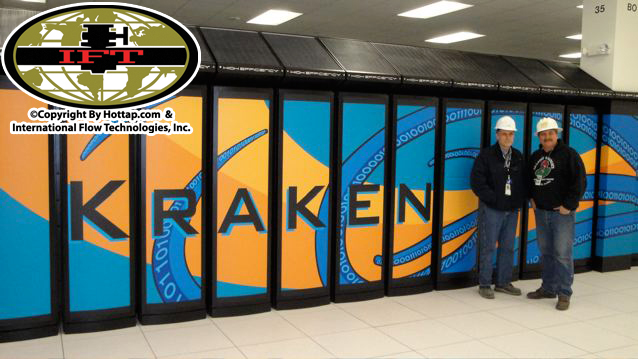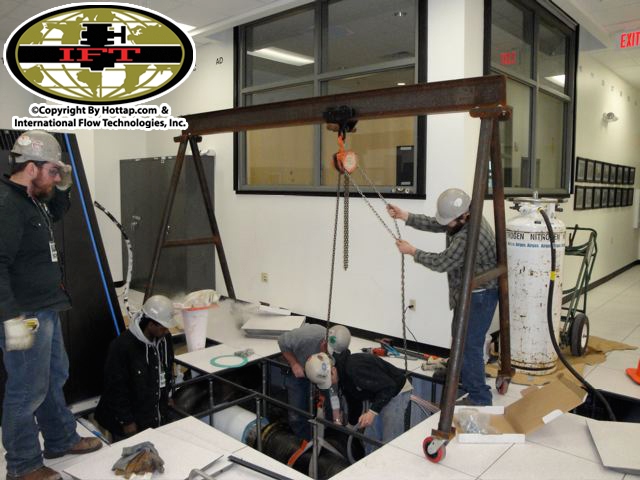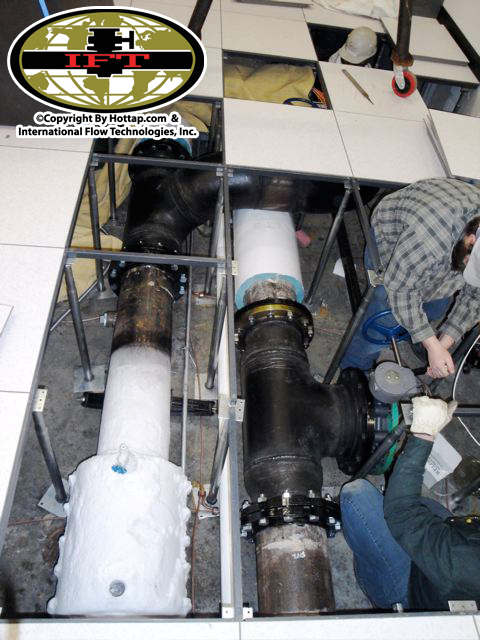 IFT SERVICE FREEZE PLUGS ARE CONSTANTLY MONITORED AND ARE DESIGNED TO WITHSTAND UP TO 3,000 PSI LINE PRESSURE. INDEPENDENT LABORATORY TESTS HAVE DOCUMENTED THAT NO PHYSICAL CHANGE IN THE STRUCTURAL MATRIX OF THE PIPE OCCURS DUE TO THE CONTROLLED FREEZING PROCESS.
Pipe freezing can be performed on a variety of pipes, including:

Titanium
1/2" to 36" (13mm to 914.4mm) OD
CoCast & Ductile Ironated & Lined Pipe
Vertical, Horizontal, Inclined
Out of Round Carbon Steel
Stainless Steel
Aluminum
Lead
Copper
Brass
Cast Iron
Fiberglass
Transite
Internally / Externally Coated
Cement Lined / CMLC
Pipe freezing can be performed in most locations, including:

Malls & Shopping Centers
Fossil Fuel Power Plants
Nuclear Power Plants
Hotels & Apartment Complexes
Paper Mills
Hospital & Institutions
Industrial & Commercial Production Facilities
Telecommunications Industry
Water & Sewage Treatment
Office Buildings
Fire Protection Systems
Refineries
Schools
Chemical & Petrochemical Plants
Commercial Buildings
Hotels
Breweries
Ships
Isolation for Hydrostatic Testing
Leak Locating
Isolation for repairs or modification