IFT Featured Missouri Job: 48" Hottap for a 72" Linestop with a 48" By Pass
Details
IFT Featured Missouri Job: 48" Hottap for a 72" Linestop with a 48" By Pass
-
5.0

out of

5

based on

16

reviews
IFT Featured Missouri Job: 48" Hottap for a 72" Linestop with a 48" By Pass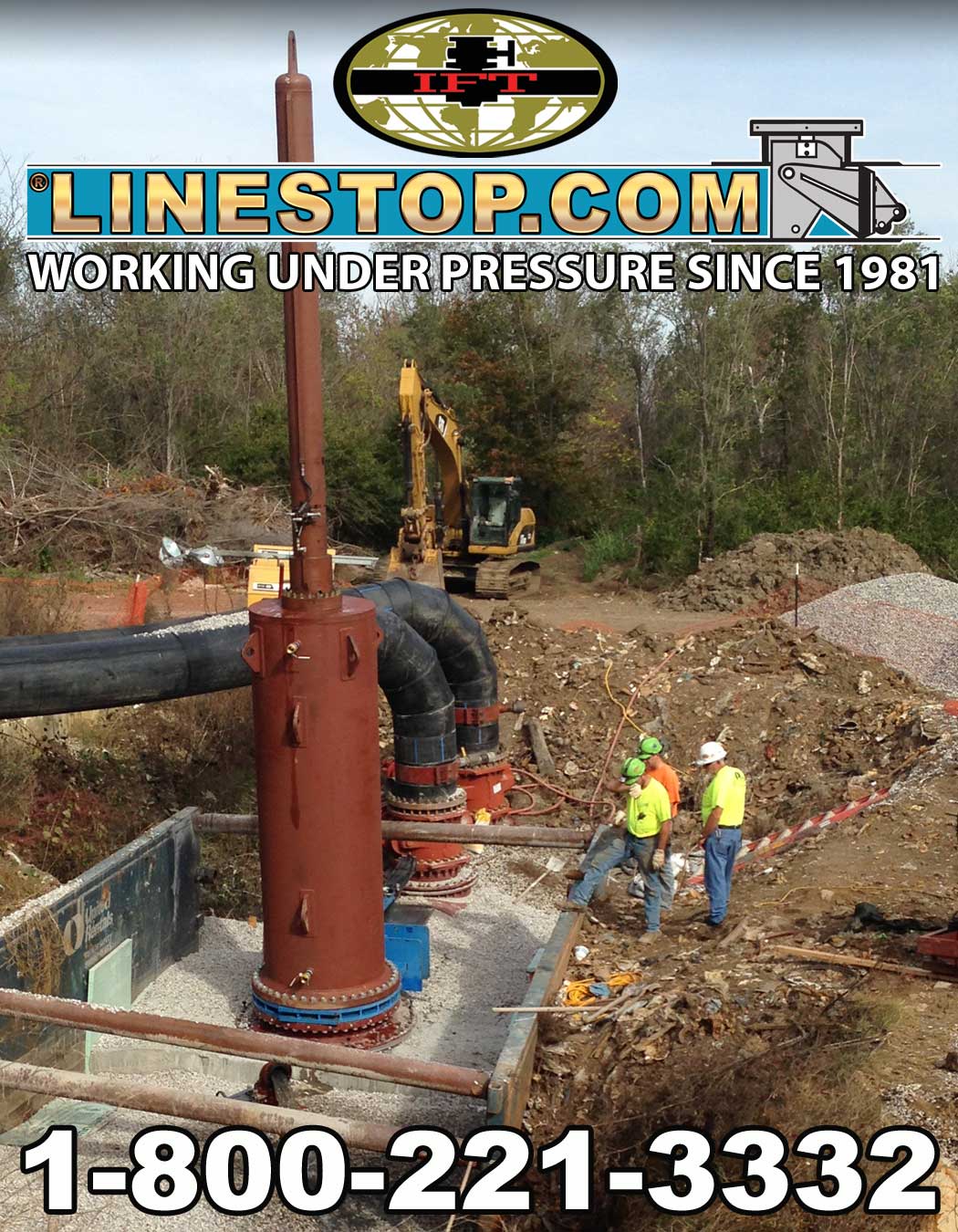 Job Status: Successful and Completed
Job Date: Oct 28, 2016
Location: Kansas City, Missouri

Job Specifics:
1 - Hottap 72" x 48'' Pre Stressed Concrete Pipeline (PCCP) with By Pass
1 -72" x 48" Hottap Fitting for PCCP (apx. 40-PSI) (JCM 445 Shop Coated with Epoxy Coated Water Way)
1 -Installation of Hot Tap Fitting (Others to Provide 48" Gate Valve with Installation and Provide Support of Valve)
1 - Pressure Test of Assembly & 48" Hottap
1- 48" Loaner Valve Loaner
48" Knife Gate for Bypass- Removed Under Pressure after By Pass is Terminated. Includes Setting 48" Completion Plug and Supply Blind Flange with Zinc Plated NBG Sets.
1 - 72" Linestop Fitting for PCCP- 72" Inside Diameter (ID) (40 PSI or less) Less than 6 FPS (JCM 445 Shop Coated with Epoxy Coated Water Way)
1- Hot Tap to Allow for Linestop Entry
1 - Insertion of 72" Linestop
1 - 4'' Saddle with Gate Valve and Tap for Blow Down and Equalizing Pressure to Remove Linestops
1- Removal of Linestop, Install Completion Plug and Blind Flange Linestop Held for (7) days.

Linestop® • Valve Inserting • Pipefreeze® • Large Tapping Linestop® is a registered Trademark and Servicemark of International Flow Technologies, Inc.
Office hours 7:30 – 5:00 Central time
Nationwide: 1-800-221-3332

Emergency Services Available .
48" Hottap for a 72" Linestop with a 48" By Pass Video
The City of Kansas City presented IFT with the opportunity to provide our services in order to allow the replacement of 72" valves on a Pre-Stressed Concrete Cylinder Pipe (PCCP) sewage force-main. Their 72" force-main being under pressure was a critical component of the Kansas City sewage collection system and the line could not be shut down.

Continuation of the raw sewage flow was performed by direct pumping from the wet-well into two 48" temporary pipelines that were hot tapped upstream of the 72" Linestop®. The 72" Linestop® plugged sewage from heading toward the wet well infrastructure thus allowing various large diameter valves to be replaced without a shutdown.

This raw sewage was successfully bypassed with use of the IFT Linestop® so the 72" pipeline remained active while the system was upgraded. IFT provides Large Linestop® services on most types of pipelines through 78". IFT now headed to Houston to perform another 72" Linestop.